Tips for finding the best accountability partner
Do you meet the obligations, promises, goals and commitments made to yourself and others?
The American Society of Training and Development (ASTD) did a study in 2010 on accountability, and found out that the probability of completing a goal is:
10% – If you have an idea or a goal.
25% – If you consciously decide you will do it.
40% – If you decide when you will do it.
50% – If you plan how you will do it.
65% – If you commit to someone, you will do it.
95% – If you have a specific accountability appointment with a person you've committed to.
After reading this, how likely are you to achieve your; goals, promises, obligations and commitments alone!
To hit 95% (after all, we all want to achieve what we set out to do) finding the right accountability partner is critical, and not just anyone will do.
Picking friends or family as your accountability partner might be a recipe for failure and make things really uncomfortable when you are in social or family situations.
It would be best if you choose someone who does not have any issues with calling you out in case you do not adhere to your strategy, and who are also interested in your success.  
What you don't need is somebody who will listen to your explanations and say "it is ok; there is always next week!"
How can you find the right accountability partner? 
In the entrepreneurial world, accountability partners provide guidance and hold their partners to their commitments to help them take their success to the next level. Unlike mentorships or sponsorships, there is a duality to the relationship — each person holds their partner accountable to their goals.
After meeting for coffee to ensure their fit and strategize their dynamic, the partners now talk once a week about their goals, accomplishments, fears, and strategies.
"Something feels missing when we don't," Yang says.
When picking your own accountability partner, I have a few tips:
Be clear on what you want and need.
What you want to get out of the partnership and what you think you need can certainly evolve over time, but to start it helps to set expectations so the other person knows what you're hoping to get out of them. Part of this involves owning your weaknesses. I find that other people can't help you if they don't know what your problems are.
Don't use a friend.
You want someone who can be objective, who isn't too close to your life, and who isn't worried about hurting your feelings. Don't assume because you like someone that they will be a good partner either, always leads to disappointment.
It's not about liking them, it's about trusting them to give good business feedback,
Find someone you respect and whose word carries weight for you. They really to need to have 'walked the talk' themselves and have proven business acumen, not just a uni degree.
While it's extremely helpful to find someone, who understands your business and industry, what's most important is that you respect each other's professional sensibility and find value in their contribution to your career.
Don't get into this if you're not ready to commit to your own success and to someone else's.
Approach to own business.
Examine a potential accountability partner's approach to their own business.
Because you want to work with someone who will keep you on your toes and push you and your business to grow, I reckon being wary of people who don't push themselves or their own business.
Ask yourself: How do they handle their clients? What books do they read? How do they bounce back from setbacks? "You need to respect them, otherwise you won't listen to them and the relationship will be meaningless.
Talk on the phone
Talking on the phone helps underscore that this is a business meeting. "You are not grabbing coffee with a friend, no catching up or gossiping. It's business, so get straight to the items you've agreed to discuss pertaining to your business. A circulated session agenda, always ensures the business hats are firmly on.
Include a grace period
It's essential, to get to know your accountability partner before you decide to commit, then test it out for a few weeks, then both reviews. Be open, honest and clear on your goals.
I clearly remember my first in-depth conversation with Geoff Green who was my wonderful accountability partner (buddy) from 2012-2017.
Geoff is an author, business exit specialist and lawyer and we both spent many hours talking to each other about who we are, where we come from, our careers, what we want to accomplish, our unique and quite opposite styles our strengths and we openly talked about our weaknesses and perceived short comings. A really valuable discussion for both of us.
I immediately liked Geoff and only more so after our first meeting, but even after that we were very honest and said we're not sure how this will work or if we'll get value out of it, so we both started off with a clear understanding that this was like a test for each other. Everyone's style and personality is different, it's important to find someone who works well with yours. Geoff was really different to me which worked beautifully for both of us. After all, if we were the same, then we would not have been so helpful to each other and for so long. Be both pushed each other to places we'd never thought possible.
Geoff and I reviewed this after our first month or so. We asked ourselves what this this person reliable? Do they respond to emails? Do they cancel our calls often? Is this really a priority for them? Do they do the work or are they just venting?
Treat it as a professional relationship first and a part of your responsibilities work-wise.
If you become friends, great. That's what happened for both Geoff and I. But setting the tone early kept us focused on being accountability partners and the small talk was kept short as you would in a regular business meeting.
Once Geoff and I felt comfortable with each other, we both settled into a strong and mutually beneficial association in which we were both pushed each other way outside of our comfort zones and we both significant got things done over a period of about 5-years. In fact, Geoff is a proud Tigers fan and we both chatted yesterday following Richmond's win in the 2019 AFL Grand Final.
For those that already have an Accountability Partner or Coach, well done and congratulations for taking care of yourself and looking after the interests of your employees, and everyone that comes under your influence and responsibility.
For those that don't… It's time to change up the game and ask yourself why haven't engaged a coach for you and/or your team?
For the year ahead, do yourself a favour, find a buddy, a partner or hire an Accountability Coach someone who will support you by getting you to have 95% probability by doing the following:
✅talk openly, honestly and confidentially about your genuine concerns
✅share ideas & strategies for growth
✅develop your people
✅celebrate the wins
✅keep you accountable and on-track
✅who will give you an outsider's perspective because they not connected and not involved with the personalities or politics of your (every) workplace?
Imagine this…
Just think of the freedom, your relief of being able to share that massive load you are carrying that's all on your shoulders, you will no longer feel alone.
With the right partner… you will be happier at home and not so short-tempered, your family will love the new you, the old you is back. You'll have the time and headspace to truly enjoy your family and spend time doing all of those things you love and sharing it with those people who are important to you.
Ten great things happen when you engage the right 'Accountability Coach'.
And if you want proof, just ask any of my satisfied clients.
Your 'To-Do List' gets shorter
Priorities are challenged and set.
We'll identify new ways to solve more customer problems.
You close more deals.
More money is made.
Stronger business decisions, follows robust discussion and counsel.
Activity levels increase, you'll output builds momentum.
I say "Accountability creates activity, and activity creates opportunity".
Perhaps, you'll leave work earlier and have work free weekends.
You'll reconnect and be present with those that are important.
Increased positivity, makes you feel better.
Research supports this direct correlation with ones' overall wellbeing.
I've spent many years engaging with world-class entrepreneurs at different stages of their journeys, and there's one common theme that exists within each other them. That is the ability to Get Stuff Done.
Those who don't master the art, usually die off, they run out of energy, resources, money and time. They lose their window of opportunity, and their patience with it and they can no longer continue to chase their goal.
Here are my Top 7 most common reasons why people do not Get Stuff Done.
How many apply to you?
1. Overwhelm – You have too much to focus on so you give your attention to whatever yells the loudest.
2. Overly ambitious – You try to get too much done in an unrealistic time frame. Cannot say NO.
3. No plan – You want to get a specific task or project done, but you are not in the right mindset to make a plan that will work. Some folks never create plans for anything.
4. Past problems – Whatever has stopped you from achieving things in the past is still present. Your monkey is still on your back, and you don't have a plan to deal with it hoping it will go away.
5. You don't know where to start.
6. No big reason – You don't have a BIG enough reason to get the task or project finished.
7. Not accountable – You don't have anyone to hold YOU accountable.
'Accountability' is a powerful word.
For most of us, it sends a shiver up our spine because it means we have to step up and be responsible for something, to deliver on a promise or honour a commitment. However, it is gravely essential if you want to get the necessary things done, we need someone who can work with us, with their central role to hold us accountable.
To have someone hold us accountable, we need to respect them, they need to have a proven record of being able to get things done themselves (walk the talk), and they need to be strong enough to manage us.
DELIVERING WHAT YOU PROMISE and getting your team to do the same
Do you meet the obligations, promises, goals and commitments made to yourself and to others?
The American Society of Training and Development (ASTD) did a study in 2010 on accountability and found out that the probability of completing a goal is:
10% – If you have an idea or a goal actually.
25% – If you consciously decide you will do it.
40% – If you decide when you will do it.
50% – If you plan how you will do it.
65% – If you commit to someone, you will do it.
95% – If you have a specific accountability appointment with a person you've committed to.
After reading this, how likely are you to achieve your; goals, promises, obligations and commitments alone? Book your FREE Unboxing Session with me 'The Accountability Guy' and we'll examine exactly where you're at, what's worked and what hasn't, and we'll take a look at your priorities to set the path moving forward. Each Unboxing Session includes:
60-90min obligation-free Zoom chat about your goals, promises and commitments
Examine your priorities
Review your 'To-Do List' and we'll dig-in to how you will implement
Together, we will create a plan and set timelines
For more information visit: https://tickthoseboxes.com.au or call me directly: +61 418-379 369.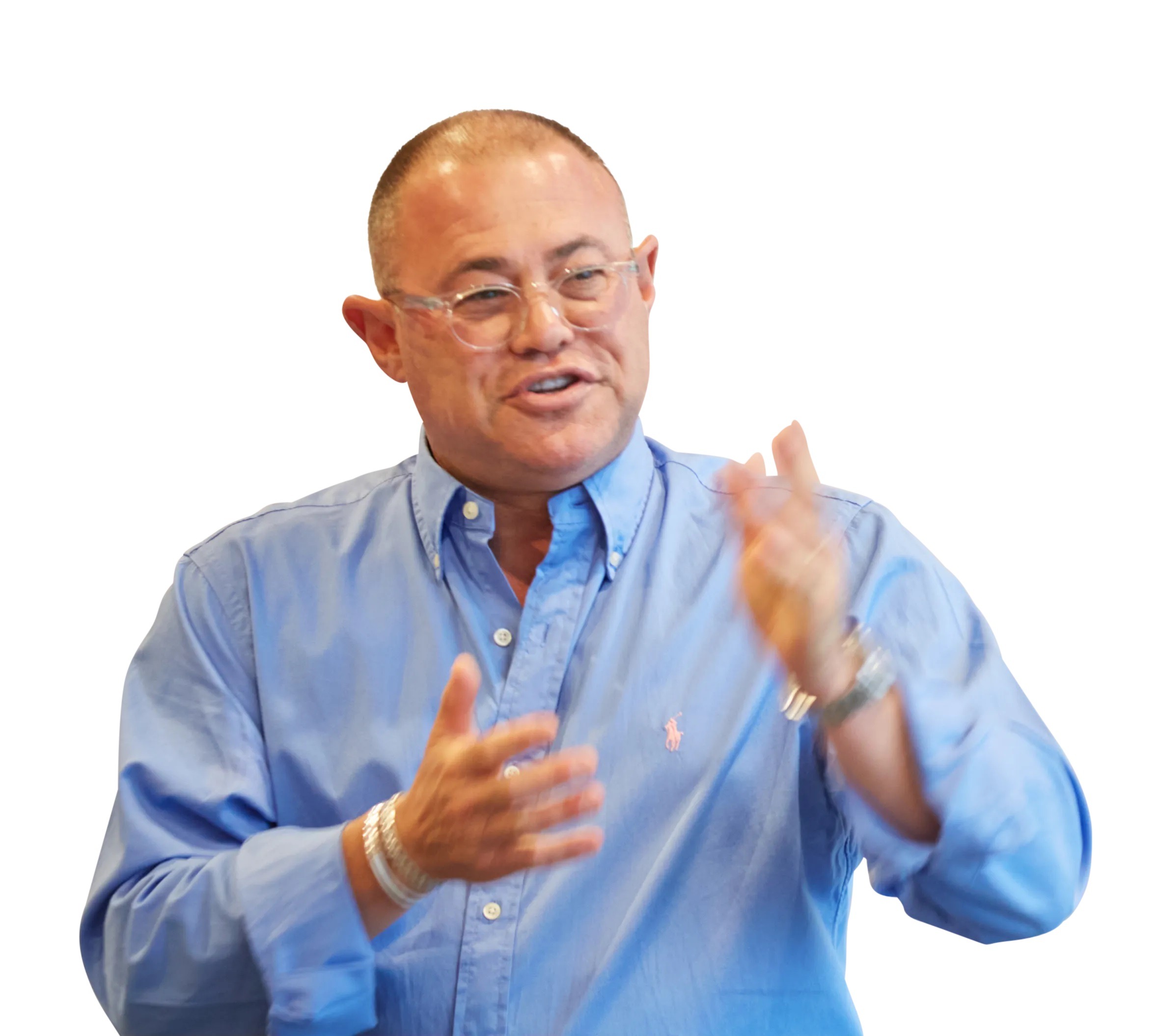 I'm Darren Finkelstein 'The Accountability Guy'
I'm a sought-after, highly experienced Accountability Coach, Business Advisor & Mentor. I work with high-performing entrepreneurial business owners and their teams. Also, I am a conference and event speaker on all matters of accountability and getting stuff done.
My past experience includes working at Apple for 10-years as 'Manager of Commercial Markets' during the inspirational Steve Jobs era. Then, building a successful entrepreneurial business for 15-years in the marine and lifestyle industry until we successfully sold and exited. I'm the author of three bestselling and award-winning books and are a part-time summer presenter in Melbourne on radio 3AW.
Accountability is my specialty; it's a tool that I've mastered for my business over many years. It held me in good stead at Apple, and it kept me ahead of the game in our business. The result is that I'm incredibly focussed, well organised and outcome-driven which has led to my business success. Yet for others, it frequently makes people nervous, as it requires us to step up our game, be introspective and hold ourselves to account, which can be very uncomfortable initially until you harness the power and momentum it generates, with the realisation how powerful it is, and how effective you have become.
Did you know that the word accountability is regularly misspelt and often misunderstood? Businesses don't really understand the difference between responsibility and accountability? Both are cousins but not the same. You see, you are responsible for things and accountable to people, hence the confusion. To me, being accountable means 'doing the things you say you are going to do', and 'getting your team to do the same'.
Work with me directly and I'll keep you accountable, hold you to your commitments, promises and goals in my One-On-One Sessions (limited spaces available) or perhaps you and your team would like to join one of my private Mastermind Group Forums, or try 'Accountability Made Easy' my (D.I.Y) online program. Want to know more about working with me? Visit Working With Me.
It's my desire to hold everyone in the room to account, which makes me an engaging Speaker on the subject of 'Accountability' for your next event, conference or workshop. My goal is to not motivate but to inspire your audience to take action for themselves, to implement and execute.
I've got a full playbook of strategies that I'm privileged to share or maybe we can create a totally bespoke and customised package to suit your individual or team needs. For more information, visit my website.
—
After reading this, how likely are you to achieve your; goals, promises, obligations and commitments alone? Unlikely I suspect, without external assistance.